Chronicle Report of the Past | Chronicle Report of the Future
The Nyanko Chronicle Report 194:
These Two Lonely Shadows Will Ease Each Other's Painful Hearts...

Here's a drawing of me and Yuki, relating to the short poem/song that I wrote on Facebook nearly a week ago. The sketching and the coloring of the drawing was all done with my pen tablet and with the Corel Painter Essentials 4 program. By the way, I'm a newbie with the pen tablet and I need to make my drawings colorful. So please, go easy on me.

Lovely timing to do a drawing featuring myself, ne. *sighs* Honestly, it's not easy to draw myself and it took a lot of practice. Finally managed to pull it off, thanks to Kuro-sensei's encouragements of constant practice.

I know it's angsty and depressing, but it kinda inspired me about the downside of my life.
At least, there always will be someone to comfort one's painful heart...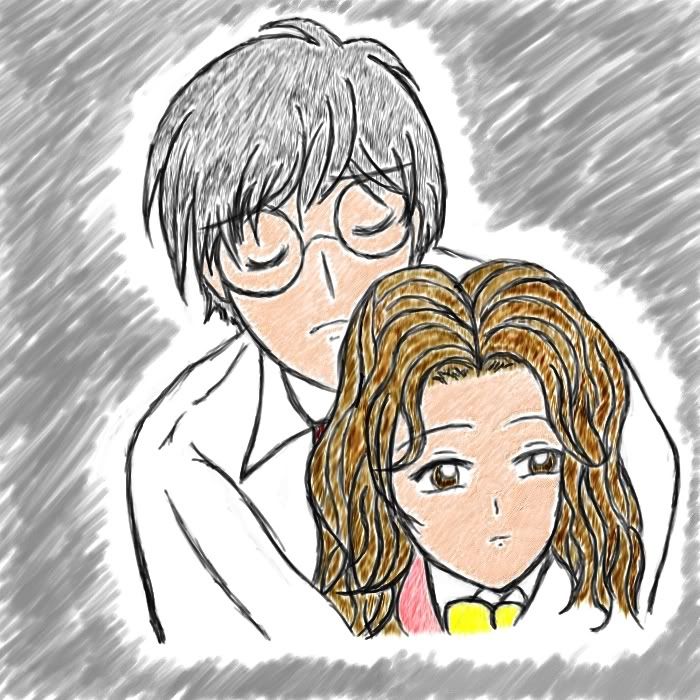 "Lonely Shadows in the Rain"
There was once sunshine in my heart
Now there's gray skies which tore it apart
Standing alone, bearing all the pain
My tears being like droplets of rain

Trying to run away from this unbearable feeling
Not wanting to know me, one decided to stop believing

Endless dreams, hopes, and love
All now being pierced by one's sudden words
Breaking into fragments of crystals
Just like a painful strike of the sword

No harm was meant to be done in two lives
But now one's changed feelings became such lies
Crying hard as my heart thought to be once healed
For one to walk away and watch it again to become wounded

A lonely shadow in the rain, here I stand
Wanting to find the love, shouting with a demand
Another lonely shadow in the rain, there one comes
With true comfort and embrace, giving me hopes

Can a destined comfort give me the strength to survive?
Or will I watch myself lose my strength and will to live?

What's there to believe?
Who's out there to believe?

These lonely shadows in the rain
Standing in embrace to release the pain...
Kuro-mood of the Day:

artistic

Ongaku:

"See Who I Am", A Syaoran Fan Soundtrack: Remember When It Rained by Josh Groban